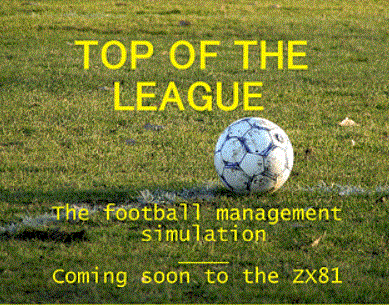 Top of the League
Top of the League is a long running soccer management strategy game based on the classic concept of guiding a team through the leagues to championship and cup glory!
Much inspired by Kevin Tom's original football management 'Football Manager', Top of the League started as a BASIC game on the Amstrad CPC in 1988. In the early 1990s a completely new version of the game written for the Amiga found its way around the public domain circuit.

In 2003 the Palm OS version was released to a football hungry football fan base. The game was later converted to Symbian phones in 2009.

Back in the early 1990s I wrote an unreleased 16k version of Top of the League for the ZX81, which sadly has been lost into the depths of time. To commemorate 40 years of the ZX81 I am now re-writing the game game from scratch for the classic platform!
Tony Kingsmill
Screenshots are all development stage and subject to change.

Top of the League homepage:
http://loftcatsoftware.x10host.com/featured/totl/index.html